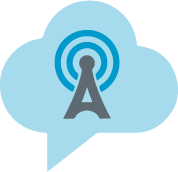 Connect your website to your Contact Centre
Communify offers you the ability to bring leads straight from your website to your contact centre.
Voice Calls

Customers can phone your contact centre or office telephone number direct from the website

Chat

Use WebRTC to create a reliable chat service.

Secure Data Transfers

Using the encryptiion built into the WebRTC service, you can send files securely. This is ideal for confidential or sensitive data.

Screen Shares

Use Communify to screen share with your customers, to provide consultancy services or troubleshoot problems

Video Calls

Communify is ideal for creating reliable video calls securely
About Communify
Communify integrates seamlessly with your existing telephony or contact centre systems. This means that you will be able to continue to use your current communications functionality but simply add the powerful multi-channel options available through the Communify Web RTC.
In addition to being an integration option to your existing services, Communify can also be set up as a completely new channel and operated on a standalone basis.

For more information on Web RTC visit our page "What is WebRTC?"
Talk to Our Sales Team
Tell us about your business communications needs and we can recommend the best solution.


---
Features of Web RTC
Web RTC offers many ways in which customer communications can be enriched, made more efficient and at the same time enable costs to be driven down.
Visitors can engage seamlessly from their browser

WebRTC does gives you a choice of communications options and a hassle-free process for delivering the chosen option. If they want to start with chat and then move to voice or video, they can without losing the connection to the assistant they are chatting to.

Line of sight analytics from website to agent

Details about a web site visitor's activities are temporarily stored by the web browser to give a summary of that user's web site visit.The information stored can be sent via API to a CRM system or analytical application for reporting purposes.

Customers choose the way they want to engage

Everyone has their favourite form of web communication, with phone calls more popular with older customers and chat for younger ones. By offering the full range and the ability to screen share, and data share, you will be giving your web site visitors no reason to leave your web page.

Integrate WebRTC with your existing VoIP platforms

By layering WebRTC features over your existing SIP PBX or hosted voip service you can handle web calls without having to change your voip infrastructure.

Secure Communications protects sensitive information

WebRTC traffic is encrypted using strong security like TLS. And being a peer to peer connection, a WebRTC session is more secure because there are no easy intercept points where a hacker can place a listening device. This makes WebRTC data channels ideal for sharing sensitive data between two parties (e.g. patient and doctor).

Integrate WebRTC into your own inhouse systems

Almost every web application these days has an API which allows secure connections and movement of data via standard internet (port 80). Integration possibilities are pretty much endless and instead of just a caller ID (e.g. mobile phone number) to identify the web site visitor there are lots of other methods (browser cookie, IP address, MAC address).
No barriers to setting up a new contact centre

With only a web browser needed at either end and no requirement for PBXs, ISDN/SIP lines, phone numbers, voip phones the implementation of this contact centre is very quick.

Making it easy for customers to call you

Making a phone call by pressing a button on a web site is undoubtedly easier than keying in a phone number with your finger. This is even more satisfying if the resulting phone call is free, which is the case for a web site visitor pressing a WebRTC button to call their supplier.

Click to route directly to a department

As WebRTC interactions are driven by browser code, historical IVR structures can be converted into a visual tree displayed for you on the web page. The web site visitor can then go directly to their chosen option without listening to several monotonous IVR prompts.

Understand your customer for a better user experience

The web site visitor's browser session holds lots of data about them, such as their IP address, what they have clicked on, previous visits etc. All of this information can be pushed to an agent. This means that thenagent can engage in a more meaningful, context-based conversation.

Improved Voice Quality

For the same reason that WebRTC is more secure, it also enables low latency voice and video communications because the voice/video media travels point to point, not through a series of PBX's . In time sensitive applications it is always good to reduce latency because it definitely improves the quality of the interaction.
---
Uses of Web RTC
There are many ways in which WebRTC can start to revolutionise the way that business communicates with its customers. Here are some sectors where it provides tangible benefits.
1. Improved Contact Centre Communications
WebRTC delivers benefits to the web site visitor and to the contact centre operator. From the web site visitors perspective they now have the option to call, chat, video chat, file share, screen share and SMS all from a single active contact menu and without have to download plugins. Once their chosen method is established the web site visitor can then change, for example from a voice only call they can add a video connection to the same agent. Or a chat session can be upgraded to voice or video, retaining the same agent. Contextual data about the web site visitor can be packaged and sent to the agent, briefing them about the web site visitor's requirements.
Additional "lines" can be added to the contact centre agent groups from the web site without the need for SIP lines, ISDN, numbers, PBX equipment etc. These lines can be added in minutes and can be used as a back up for traditional number-based inbound channels.
From the web site visitors' end there is no departure from what they do now. Nearly 70% of people now access the internet using a smart phone or tablet, most of these people now use their finger to press a phone number rather than dialling it on a keypad. WebRTC calls are initiated in the same way. In fact some contact centres are now moving from a simple "click to call" button to a hierarchical web menu system A well designed and implemented WebRTC contact system can make the web site visitors experience much simpler and more engaging.
2. Telemedicine
The telemedicine industry is an early adopter of WebRTC telemedicine products due to its need for security, simple set up and video. A doctor can conduct a consultation with a patient remotely and as easily as a Skype or FaceTime call but without requiring any insecure, heavyweight applications to be installed at the client end. All information shared through the WebRTC data channel is encrypted and then transported point to point from one web browser to the other, bypassing the usual vast collection of routers, servers and cables that make up the internet. Healthcare monitoring systems at the client end can be managed remotely via this same connection, with patient data passing securely.
3. On-line Call Tracking
Establishing which on-line marketing campaigns are persuading website visitors to call you, can help you focus investment and calculate ROI. On a web site that has WebRTC functionality enabled all of the visitor's actions are logged by the browser, even the resulting telephone call. Web site visits can now analysed with contextual data to give a much better view of which areas of the site are delivering the goals required. Only now by bringing browser-based voice, chat and video into the same package as traditional visitor tracking data can a real time, comprehensive picture of web site interactions be made.
4. Web Site Retail
On a complex, sales-focussed web site adding WebRTC services can improve sales by enabling a sales assistance to join a visitor on the web site, as if they are in a shop together. Voice, video and screen sharing can all be used to assist the visitor find what they are looking for and make a decision. Unlike high street shops a small team of well-trained sales staff can handle multiple enquiries without wasted resource. In advance the agent receives contextual information about the web site visitor so that they are ready to assist without the visitor having to give a full explanation. This contextual information can be used to influence the routing of the call to a relevantly skilled agent without necessary explanation and transfers.
5. Virtual Reality Communication
Many companies are creating Virtual Reality (VR) content to promote their products in a quickly expanding market such as Jaguar, Volvo, Coca Cola, Top Shop, Jean-Paul Gaultier and Macdonalds. WebRTC functionality can be embedded into these applications to allow people to press a button within the VR application to call an assistant, who can then take part in the VR session with them guiding them where necessary. WebVR is a new programming language adopted by the major browsers which brings VR to the web browser enabling making it much more accessible, ideal for online games and advertising. WebRTC and WebVR will make a good partnership.
WebRTC is the technology that can add contact centre services to the VR world which would be impossible using traditional technology.