Online shopping purchase figures are increasing year-on-year with Fortune Magazine, among many, reporting a steady increase in percentages. With the surge in online shopping comes reports of shoppers needing assistance before purchasing, and a lot of businesses are investing in ways to nurture customers in this 'pre-purchase' stage. The Guardian reported back in 2015 that companies "are ensuring online… resources are available to help guide shoppers toward their brand".
It's no surprise that businesses are turning to technology to guide shoppers through the customer journey, as well as fulfil the growing demand in customer support. One way companies are supporting customers in this stage is by integrating bot systems into their websites, with businesses realising their benefits, such as:
• Upselling
• Handling simple to moderate pre-purchase queries, reserving agent resource for more complex customer support requests.
• Engaging customers with the brand, helping to cement loyalty.
In this feature, we will discuss what bot integration is. We'll also touch upon the benefits of bots for your websites and the ever-growing importance of turning to expert suppliers and solutions.
What is Chatbot Integration?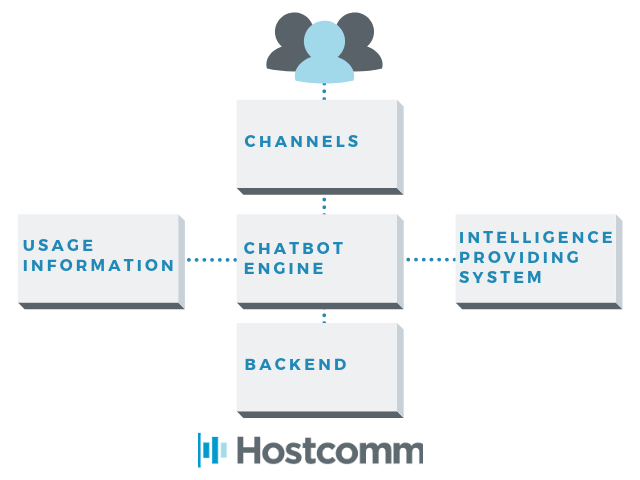 Bot integration is embedding software into your existing channels such as social media, phone systems or website. The bot software acts as a middle agent between the systems that make up the channel and your customers. Both customers and the systems govern what the bot does or says as seen in the diagram above.
The channel is how the customer will contact your bot with a query. The bot will consult with the backend to process the request by your customer quickly, turning the conversation into values and codes that translate into the correct answer. The intelligent providing systems govern how the bot communicates according to programmed responses and use NLP to ensure the bot provides human-like responses. The interaction and data derived from this are stored in the usage information systems allowing for learning and improvement processes as the bot updates itself.
Why Your Website Needs a Chatbot
Considering its uses, an obvious channel for chatbot integration is your website where the majority of shoppers will come when deliberating purchase decisions. Below are some reasons why chatbot for businesses are being incorporated into website operations:
• Improves customer service standards: Bots offer a consistent and high-quality service for customers, using their programmed scripts which remain on-brand. What's more, they offer 24/7 service, which means customers are supported regardless of what time they decide to shop or what time zone they may be in. Bots initiate conversations before problems in the customer journey arise, offering assistance should the customer need it when navigating your website or deciding between products or services.
• Compiles customer data for insight: The bot will use the data gathered from interactions to assist the business in efforts to improve customer experiences, product/service offerings and overall operations of the website.
• Personalises experiences: AI-powered bots are intelligent enough to decipher between customer profiles and use these to create a personalised shopping experience based upon a customer's browsing history.
• Handling high volumes of enquiries and pushing lead generations: The bot can communicate with multiple customers simultaneously, as well as initiate follow-up conversations for revisiting customers. These customer support services can be performed regardless of a businesses' employee size.
The Importance of Expertise When it Comes to Bot Integration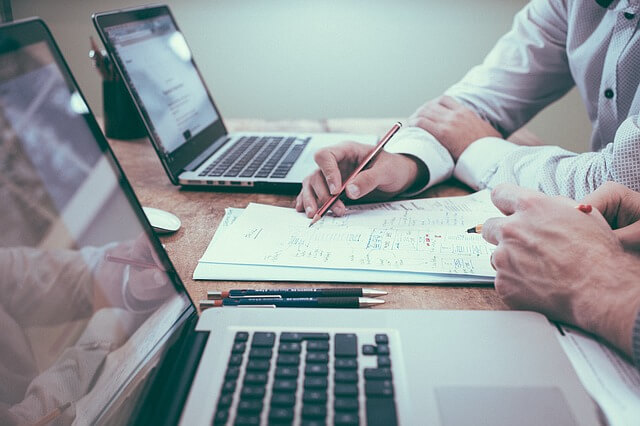 As good as bot integration sounds, not all solutions are created equal. When it comes to transformative technology, such as bots, it's only as good as the company who makes, installs and manages it.
Many businesses are finding that the expertise they hire is the difference between success and failure when it comes to bot integration on their websites. The best advice is to educate yourself on the topic so that you can differentiate between suppliers on the market and pick the product and service that is best for you.
Additionally, understanding the role and processes your bot will undertake in the customer's journey will help you shape better experiences. It will also help you pinpoint the times where it is essential for human agents to step in. When it comes to bots for your business, it's all about collaboration.
Lastly, it's important to note that poorly-designed bots can cause damage to your bottom line. This is because customers can become annoyed by dealing with bots that cannot complete simple functions or answer basic questions. Customer frustrations, especially in the pre-purchase stage can result in lost business. However, the minimal requirement you should expect from an expertly-designed bot is that it meets (and exceeds) customers' expectations for service standards such as quick and engaging responses. This also means that the bot solution you go for must be customised to your brand.
Some businesses may consider in-house talent for bot creation, installation and management; although, this is not always a cost-effective solution. There are many bot providers in the market, all varying in price. However, you should not be inclined to go for the lowest rate as this could translate to a lousy bot experience for your customers. You should look toward suppliers that can prove their bots are tried-and-tested, usually demonstrated through glowing recommendations.
Hostcomm offers an end-to-end chatbot solution rather than just a open platform. We can help with all aspects of planning, customization, and implementation of your chatbot to ensure a great customer experience.